If you are going to purchase an air conditioner for coming summers, there are many options available for you. You may choose a central air condition system or can go for a window or split A/C. Everyone has its own advantages and disadvantages.
Your final purchase will depend upon the size of area you wanted to cool as well as your budget and preference. Among all these options split air conditioner is one of the best. It is even preferred over window or wall air conditioners. This system is also known as ductless split, mini-split, duct free air conditioning and is sufficient for a standard size space as it can provide you with adequate cooling without an expensive installation costs as well as extensive efforts.
You can reduce your energy expenditure by installing split air conditioners as they don`t require ductwork. Mostly people shy away from installing split air conditioner as they don`t know it's working mechanism and also about the advantages that it offer to you in shape of cooling down your home.
Following is some important information related to function, installation and advantages of having split air conditioner. These split air conditioner are not very common but this is not because of any flaw or fault. When you learn the information about split air conditioner you will get to know that it is the best possible option that you need for you home.
Components
A split a conditioner has two main parts one is compressor and the other is evaporator. Both these parts also exist in wall air conditioners and central air conditioning units. The only difference among these air conditioning units is that for split air conditioners, these parts are separated into two different and distant components, one being indoors and the other being outdoors. Compressors are installed outdoors and it will initiate the cooling process. The indoors section has the evaporator and fan to provide cooling to your place.
Both these sections are connected through tubing which are known as lines and set of electrical wires. The tubing is responsible for transporting the air between the sections. So basically these tubes can make your split air conditioner feel ductless, further these tubes and wires are so discreet and small as compare to large ducts also becomes the reason for the name mini split.
Function
Your spilt air conditioner compressor that is installed outside is controlled by an internal thermostat. The mechanism is simple as soon as thermostat notice the warm air, it turn on the compressor. After receiving the message from the thermostat, compressor start circulating refrigerant gas and also increases the temperature and pressure of refrigerant while compresses it through different pipes. After the increased pressure on the refrigerant, it goes to the condenser for further processing.
When it reaches condenser, condenser helps removing heat from that pressured gas and convert it into liquid state. Now when it converts into liquid it is transferred to the tubing indoors and then move forward to the evaporator system.
Now your chilled liquid comes inside your room unit. The evaporating fan will collect any warm air and send it to a chamber with chilled liquid refrigerant. The fan system of your air conditioning unit will now blow this air back to your room after it gets cooled and it will decrease the overall temperature of your room. In case if there is still some warm air in your room, it will be detected again and the process starts again and continue unless your room temperature become cool and there will be no warm air present in your space.
Advantages of Spilt Air Conditioner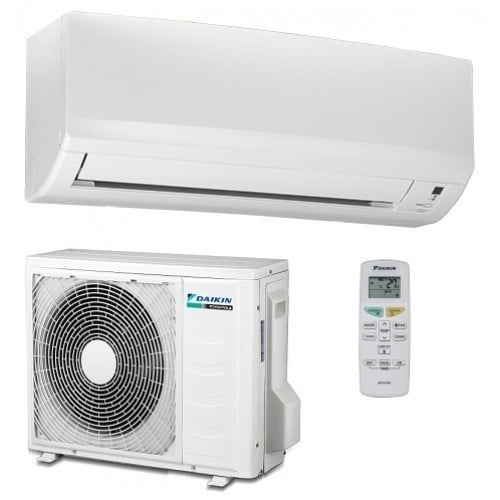 Less loss of Energy
When you install a split air conditioner you will be able to save energy that might be lost in other air conditioning units. This is because a split AC is isolated and compact between two localized component sections, it means the chances of losing energy and heat through the system is very less. If you have a centralized air conditioning system then the chances of energy loss is high because of the duct system. But if you have installed split air conditioning system, then this problem of energy lost is almost eliminated.
Low Heat
People prefer split air conditioners over wall and window air conditioners for many reasons and one of those reasons is that the latter even with complete sealed walls and windows do allow some of the heat to pass through and enter the room. That`s why they are not reliable in cooling multiple rooms or large spaces. It is easy to install window or wall air conditioners but still when it comes to proper cooling split air conditioner is far ahead.
Targeted effect of cooling or heating
With split air conditioner it becomes easy for you to target any special area for heating or cooling. You can easily install the split air conditioner inside your room wall without the need of making wall hole or compromising on your direct sunlight through window.
Affordable Installation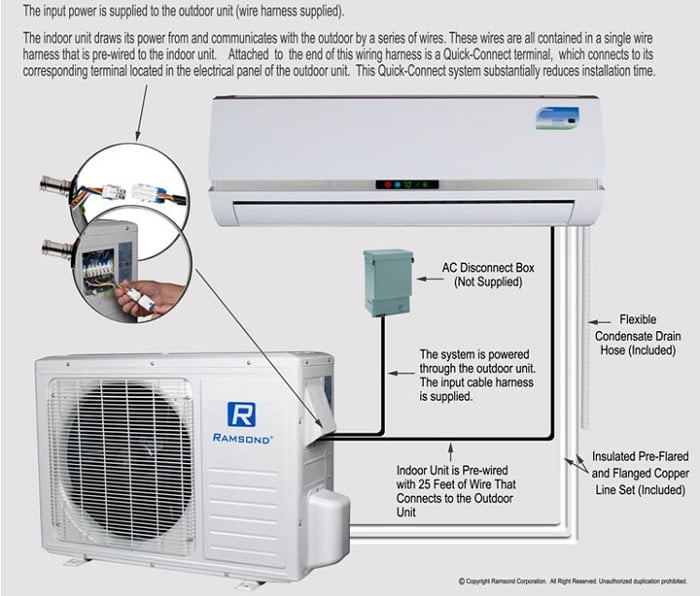 When it comes to the installation factor, split AC installation is easiest among air conditioners. It is easy to maintain and operate and also affordable. The important thing to note here is that there are some specialized installation techniques and electrical wires involved, so it is better to hire the services of some professional to get job done for you. Once you have a split air conditioner installed at your place, you will surely find it more energy efficient, cheap, and also controlling the heat within the home very effectively. When you turn it on and sit in the room where it is installed, you will forget about the heat outside, even during severe summer days.
So this is some of the basic information about the components, functions and advantages of split air conditioner. If you are looking to install one at your place, then it will be a great idea to for split air conditioner.