Amazon Music is a streaming service that has been doing the rounds over the past couple of years. It is a direct competitor to Spotify and Apple Music, however, considering the features and pricing plans, etc. one might want to cancel their Amazon music subscription. Although signing in is quite easy, opting out is a bit complicated. One wonders if this is intentional or accidental. So, in this blog, we are going to discuss how to cancel your Amazon music subscription so that you don't end up wasting money on something you have stopped using.
How To Cancel Amazon Music Using Your Browser?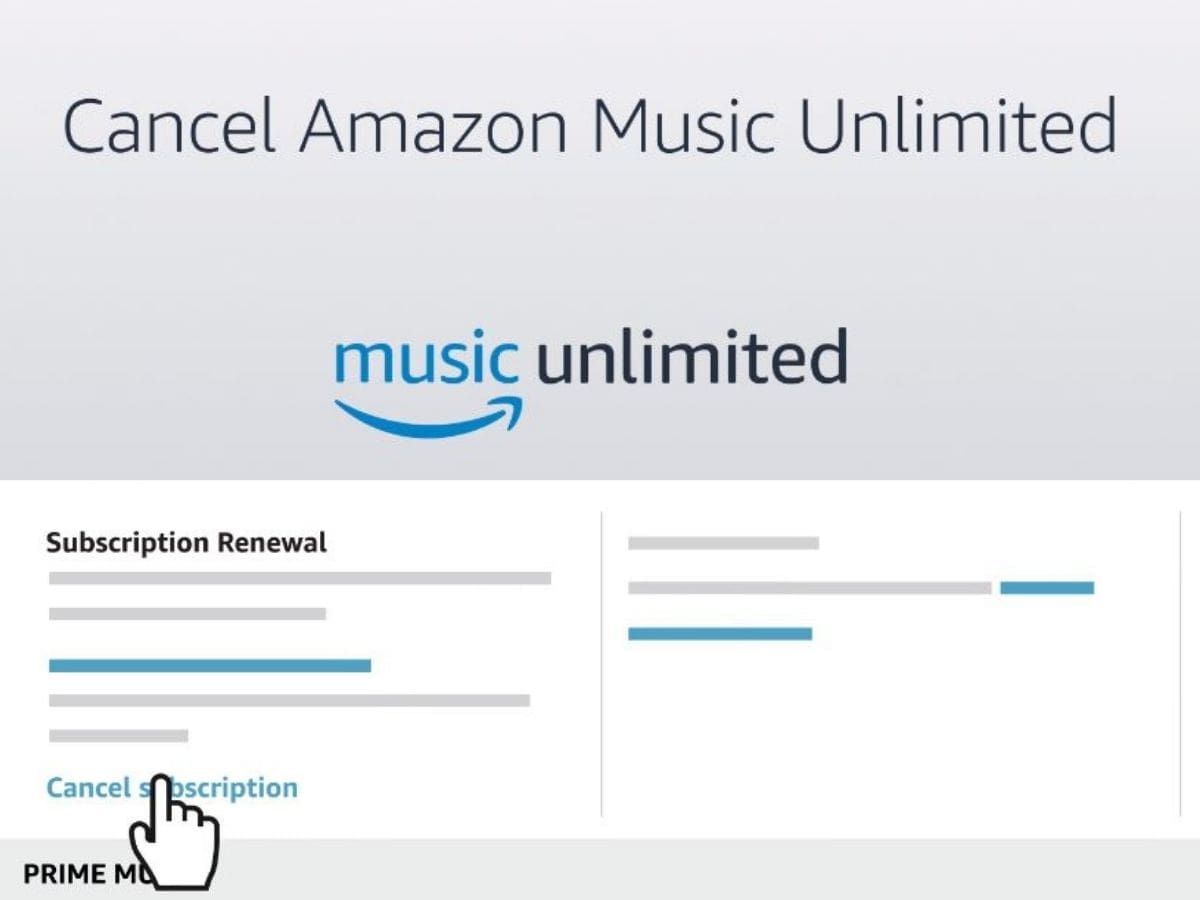 The easiest and fastest way to unsub your Amazon Music subscription is through a browser. The process remains the same for Chromebook, Mac computer, or Windows. To do that, you need to open your browser and visit Amazon.com. Then, locate "Accounts & Lists" situated at the right-hand side of the Amazon page. Once you are in, select "Memberships & Subscriptions". From there, proceed to select "Music subscriptions" and then, "Amazon Music Unlimited" on the next screen.
Navigate to the bottom left corner and click "Cancel Subscription". Once you have canceled the subscription, you will be able to access Amazon Music content till the expiration date.
How To Cancel Amazon Music On Android?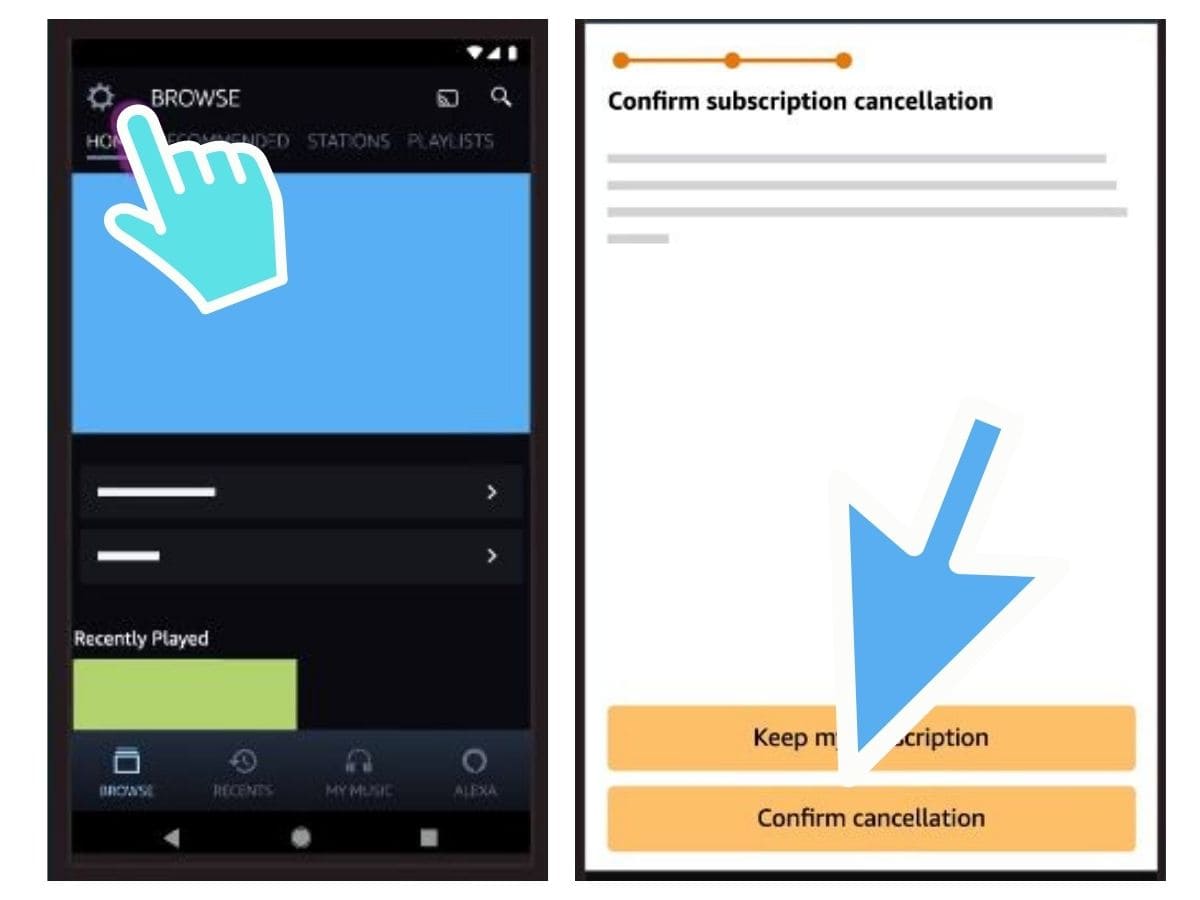 If you wish to cancel Amazon Music through your Android or a non-iOS device, you will first need to install the Amazon Music app. Launch the Amazon Music app and click on the gear icon located on the top. Now that you are in settings, locate "Amazon Music Unlimited" and tap it. Next, your subscription plan information will be shared. Scroll down and locate the "Cancel Subscription" button. Then, "Submit and confirm cancellation". Quite easy!
How To Cancel Amazon Music On iOS?
Just like Android users can cancel their Amazon Music subscription by installing the Amazon Music app from Google Play Store, Apple users can as well. The Amazon Music app is available at the App store but there is a slight difference in the way the Amazon Music app works in iOS devices as compared to Androids. With the Amazon Music iOS app, you cannot cancel your subscription. For that, you should use an internet browser of your choice.
First, open the web browser of your choice and visit Amazon.com. Then, click the three horizontal lines located at the top left corner. Visit the "Account Settings" and locate "Your Memberships & Subscription". The next screen will display a list of your subscriptions and you need to locate "Amazon Music Unlimited". Visit the "Amazon Music Unlimited Settings" and click "Cancel Subscription" located at the bottom of the screen. Select the reason for cancellation and proceed to confirm.
How To Cancel Amazon Music On iTunes?
Apple users have a slight advantage over Android users since they can subscribe to various services through iTunes. Since the payment is processed through their Apple account, the users prefer this method relatively more to a direct Amazon Music subscription. For cancellation of Amazon Music, you are going to need your browser or phone's/tablet settings.
Visit support.apple.com and locate the "Billings and Subscriptions" settings. Click "See or cancel subscriptions". Next, your browser will try to connect with your iTunes app. Therefore, you need to install the iTunes app, if you haven't already. Once the app has launched, select "Account" and then "View My Account". Navigate to the "Settings" section and click "Subscriptions". From the list, find the Amazon Music subscription and click "Cancel Subscription".
The cancellation process is easier for people using an Apple device. If you are using your iPhone or iPad, click on the "Settings" app and search for "Subscriptions" in the search bar. Scroll down and select the "Subscriptions" tab. Then, "Confirm" to cancel your Amazon Music subscription.
How To Cancel Amazon Music After Free Trial?
Amazon offers a 90-day free trial to its users. Once that expires, you will be automatically charged for the following month. However, if you wish to avoid getting yourself charged, you should set a reminder about canceling your subscription plan. The reason is that once the trial expires, Amazon will not offer a refund. By following the guidelines mentioned above, you should be able to cancel any Amazon Music subscription.
How To Cancel Amazon Music Free Trial On Alexa?
Amazon Music app is compatible with Alexa as well that enables the user to activate their subscription via voice command. However, the pricing might differ based on the Amazon Music-compatible device you are using. For instance, a device like Amazon Echo will set you back around $40, which is quite affordable. Although you can activate your Amazon Subscription by simply giving Alexa a voice command but to unsubscribe, you will need to visit the Amazon Music page.
Can You Pause Amazon Music Instead Of Canceling It?
If you are on your 90-day free trial period, you can cancel your Amazon Music subscription by following the steps mentioned above. But that does not delete your account. At the same time, it should be kept in mind that you will not be able to use the 90-day free trial on the same account again.
The same principle applies to non-trial subscriptions as well. Until the expiration date of the subscription, you will be able to use your Amazon Music subscription. If by any chance you decide to use Amazon Music again, you will have to immediately pay for the next 30 days.
When it comes to canceling your Amazon Music subscription, there are several ways you can do it, using several different devices. Even though Amazon is working on improving its Amazon Music features and user experience, competitors like Spotify are still ahead in the race. This makes it a more preferred service to Amazon Music and we can only hope that Amazon Music steps up its game in the future to compete toe-to-toe with its competitors.