Living in an apartment with loud neighbours or loud noises coming from outside to your door can be very unbearable most of the time. Your home is supposed to be a place where you can relax, take a rest and lie back. In an apartment, replacing things like doors may be very challenging also. But of course, without spending so much money and time, there are many things you can do to soundproof all of your doors. Use these easy steps to soundproof your doors and get rid of the exterior distractions.
1. Seal the Door Frames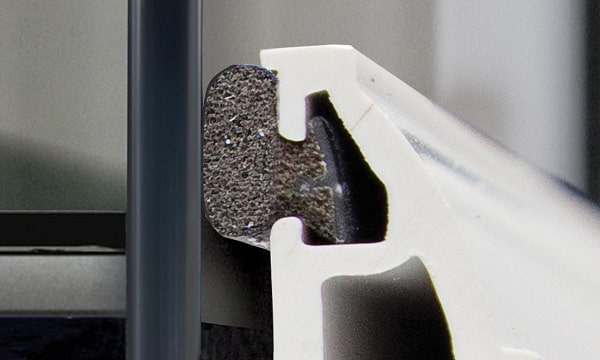 When we look at the entire door set, we will see that door's frame can be the weakest link. The main reason why many doors leak sound is that they don't fit their frames properly. So, the air gaps occur between the frame and the drywall; these gaps can leak a lot of sound and cause issues. Sealing gaps between your door and the frame is one of the most effective door soundproofing methods. And the most efficient way of doing this is to apply sealing. Sealing these gaps is pretty easy actually. You can use the insulating sealant. It is an airtight sealant and it is perfectly eliminates the sounds. Also, it is paintable. You can paint it with the same color as your door. If the gaps and cracks are so smal to see with eyes, it may be difficult to place them. To do this, turn off the lights in your room and hold a light on the other side of the closed door. The gaps and cracks will seen then.
2. Use Weather Stripping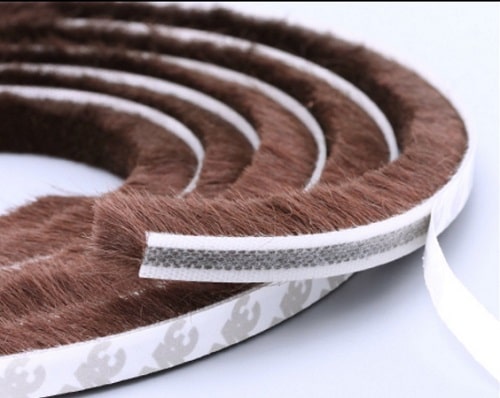 Weatherstripping tape was used on the bottom of garage doors. Therefore, It may seem suprising to realize that they can be used to absorb the sounds also. It is usually made from sound absorbing materials such as fiberglass. Usually, they come with adhesive that allows you to easily set it up. Weatherstripping, although initially meant to keep away dust and dirt, it can be used as a good sound absorber. You can try out this on your door. While installing the tape, make sure to get enough compression. The compression ensures that an airtight seal is formed between the door and the tape. It is the seal that prevents the sound. Using weather stripping is a simple and highly effective method to seal up the gap around your door completely. Be sure that you buy high quality stripping. Because cheap ones may quickly wear off and break up.
3. Use Door Gaskets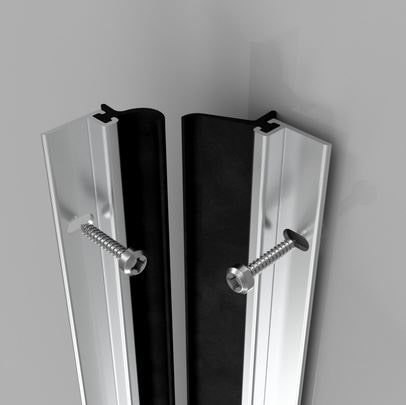 Door gaskets function similarly to weatherstripping tapes but they do this far more efficiently and effectively. You can use them to seal gaps at the jambs and the header of doors. They seal the gaps, block out sound, light, and moisture. Door gaskets are commonly used on fridge freezer doors to ensure an airtight seal. They function by sealing your door magnetically. Magnetic door gaskets only work on doors which are built in metal frames. So they aren't a suitable method of soundproofing for most doors. But if you want to change your door frame to a metal one then this may be a very effective door sealing method for you.
4. Use A Soundproof Blanket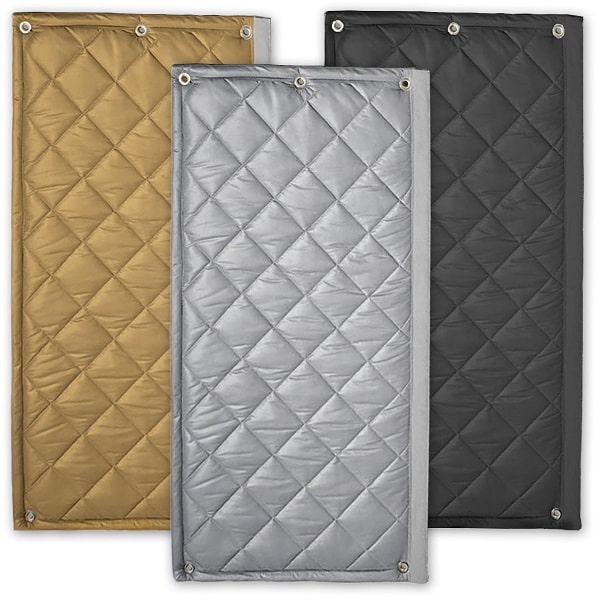 Soundproof blankets are usually made of fiberglass, which is a sound absorbing material. Heavy soundproof blankets will absorb almost all of the sound as regards to small blankets. These blankets are usually easy to install. You just can hang them onto hooks at the back of your door. You can easily put them when you do not want to use them also, which this makes them a good option for your home. But the disadvantage of using soundproof blankets is that they don't look very aesthetic in your home. They are usually not visually appealing. Therefore, you may choose to use these blankets just for doors which you don't use frequently such as your laundry door.
5. Use A Door Sweep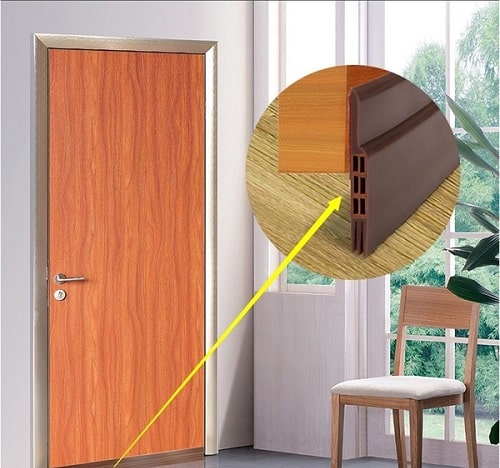 Using a weatherstripping tape or a door gasket will help prevent the sounds from gaps and cracks greatly. However, they do not help deal with the biggest crack. The space between the door and the floor is one of the biggest gaps through which sound from the doorway gets in the room. A door sweep is the best thing for you solve to this problem. Door sweeps are made of sound absorbing materials that help seal the gap between the door and the floor as the door is opened and closed. But remember that door sweeps are not as easy to install as weatherstripping tapes. You will have to drill and screw the sweep's fastener into the door. Using a door sweep has some other advantages as well. As well as blocking out the sounds, the sweeps keep off insects and dust. They are also energy efficient products and they prevent cold air from the air conditioner for escaping.
6. Hang curtains over your door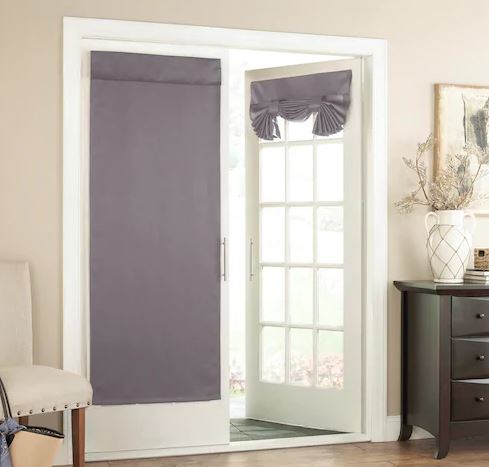 Curtains function as great sound absorbers. It is because they are made of thick materials that dampen the impact of sound. When you are soundproofing your doors, hang the curtains on them. Soundproof curtains are specially designed to keep sound away. Using them on your doors will obstruct most of the noise. Installing soundproof curtains may take some time but it is not difficult at all. Place curtain rods over the door frame first. Once the rods are installed, you can then place drapes as you use on your windows. Using curtains for soundproofing a door is similar to insulating a door. The important thing is to make sure that the fabric you use is thick and multilayered. The more layers will helps to dampen sound waves.
7. Use a rug
Use the rugs as sound absorbers for dampens the sound. Rugs, especially heavy rugs, absorb sounds and therefore, help in reducing the impact of sound. However, remember rugs may not be as effective as other soundproofing doors methods. To increase the efficiency of rugs, try to place rugs on either side of the doorway. This ensures that the noise coming from doorway is greatly reduced. The greatest advantage of using rugs is that you do not have to install them. There is no installation process. You simply buy the rag and place it wherever you want. And this will save your time greatly.