Fujitsu air conditioner is a reliable climate control system produced by Fujitsu, a Japanese technology company known for its high performance and energy efficiency. With its superior air filtering capabilities, it provides a healthy and comfortable climate experience.
How To Reset?
When you press the RESET button, press it gently by using the tip of a ballpoint pen or other small object in correct direction as shown in this figure.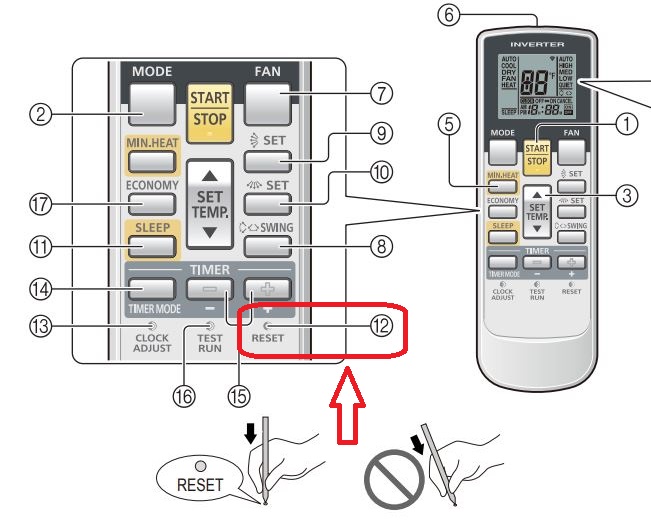 Never mix new and used batteries, or batteries of different types. Batteries should last about one year under normal use. If the Remote Controller's operating range becomes appreciably reduced, replace the batteries and press the RESET button with the tip of a ballpoint pen or other small object.
Filter Lamp Reset
Some indoor unit models are equipped with a filter lamp in the indoor unit display to indicate when it is time to clean the air filters. Press the FILTER RESET button. The indoor unit's FILTER LAMP will go out.
Remote Control Symbols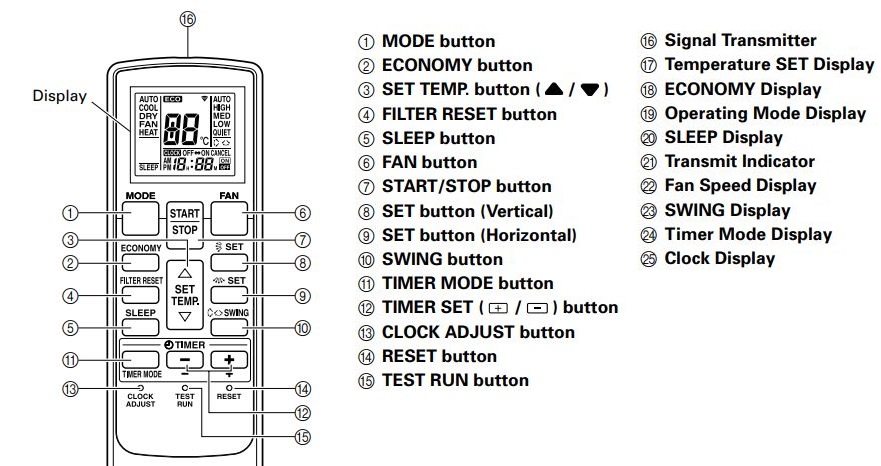 Auto-Restart Function
In event of power interruption such as a blackout, the air conditioner stops once. But it restarts automatically and performs previous operation when the power supply is resumed.
If any power interruption occurs after the timer is set, counting down of the timer will be reset. After the power supply is resumed, the TIMER indicator on the indoor unit blinks to notify you that there has been a timer fault. In such a case, reset the timer for your opportune time.
Automatic Defrosting Operation
When outdoor temperature is very low with high humidity, frost may form on the outdoor unit during the heating operation, and it could reduce the operating performance of the product. For frost protection, a microcomputer-controlled automatic defrost function is equipped in this air conditioner. If frost forms, the air conditioner will temporarily stop, and defrost circuit will operate briefly (maximum of 15 minutes.) OPERATION indicator on the indoor unit blinks during this operation.
If frost forms on the outdoor unit after the heating operation, the outdoor unit will stop automatically after it operates for a few minutes. Then the automatic defrosting operation starts.
Manuals
Fujitsu inverter AC Operating Manual Pdf
Fujitsu Wall Mounted Type AC Operating Manual Pdf