There was a time when people only preferred watching movies in their native language. The biggest downside to that was that they were missing out on huge content. Today, you have Korean, Chinese, Japanese, and German movies taking the lead and one cannot simply ignore them. This is why subtitle sites are increasingly becoming popular to tend to the ever-growing audience. Let's discuss some of the best options you should consider when it comes to downloading movie subtitles for free.
1.OpenSubtitles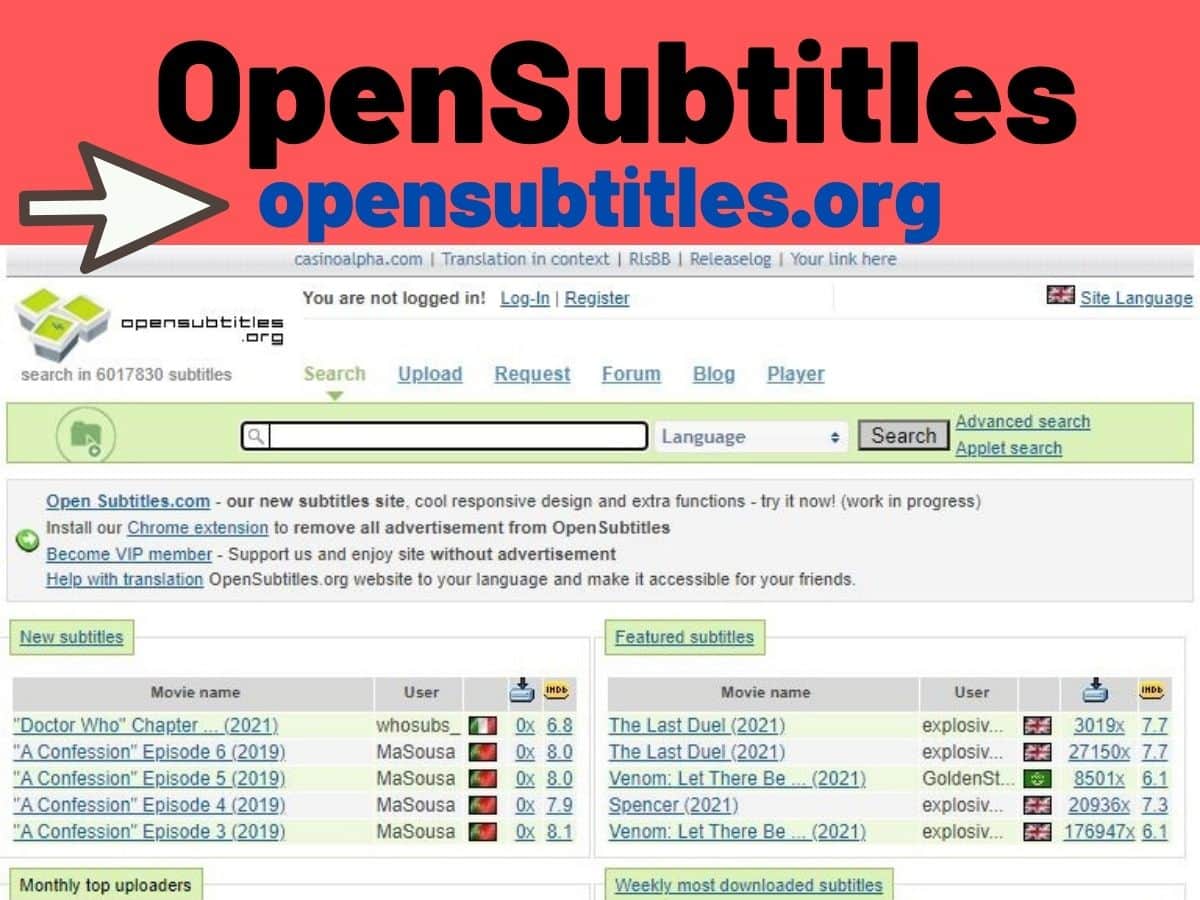 OpenSubtitles tops the list of the best sites for downloading subtitles for free. There is simply no limit to the number of movies found here and you can download subtitles in many different languages. In addition to that, its interface is very responsive and improved to the point where you do not have to put in a lot of effort and time to find your desired subtitles.
In addition to that, the site also features a search bar that is very intuitive and advanced, allowing you to search the subtitles according to the date of release and genre, etc. On top of that, the site includes 'multi-search capabilities' allowing you to search multiple subtitles at once.
Even though the User Interface of OpenSubtitles is not the best out there, when it comes to downloading subtitles, you won't have any trouble finding them in multiple languages.
2.Podnapisi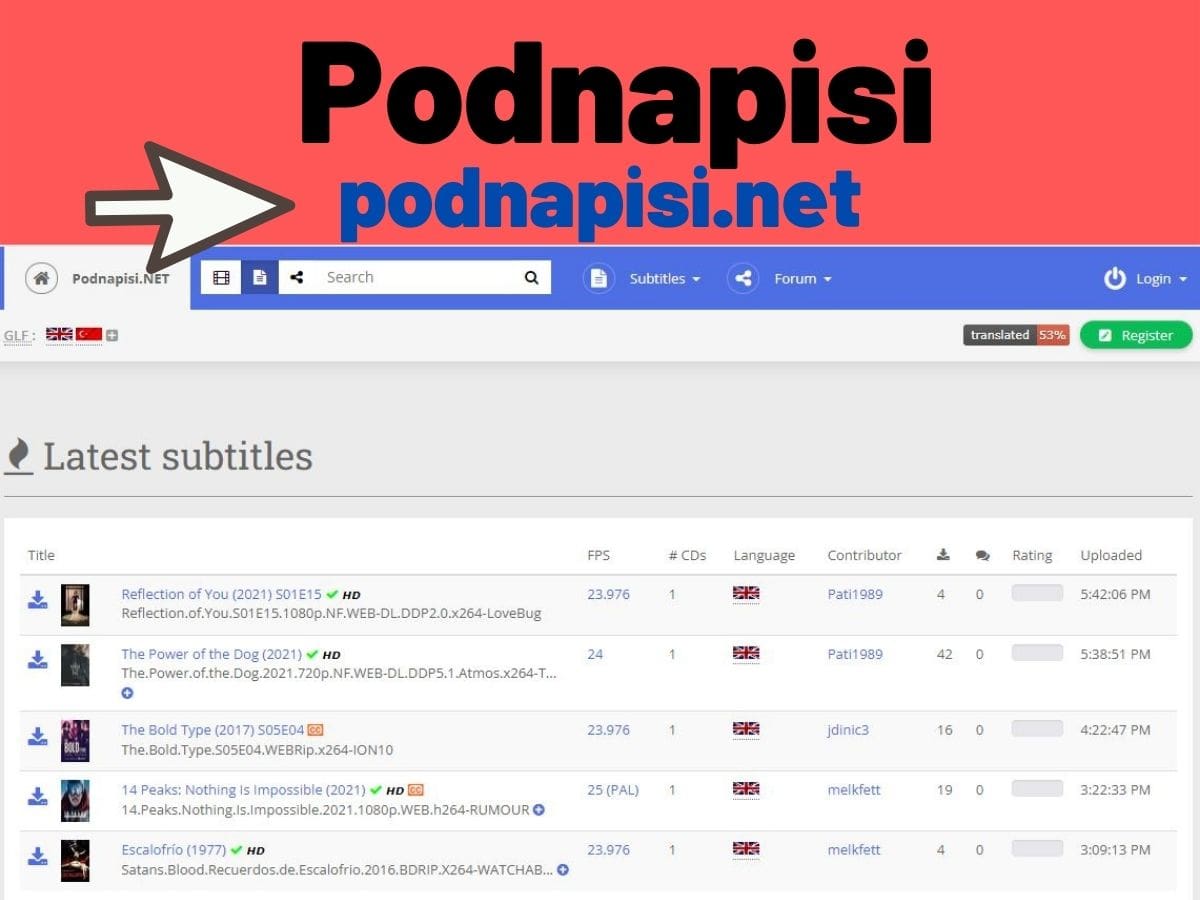 As compared to OpenSubtitles, Podnapisi has a very welcoming interface, which is clear and comprehensive and has everything within reach. Furthermore, Podnapisi is also a site, which is regularly updated with new subtitles according to the latest movies and TV series.
If you want to look for subtitles pertaining to different movies, you can use its advanced search bar. However, the subtitles for the latest movies are highlighted on the home page itself. Using the comprehensive search filter, you can search the subtitles according to the genre, release year, or season number.
However, the downside to Podnapisi is that while its User Interface is better than OpenSubtitles but it does not house a large collection of subtitles. To make up for it, the website features a smart Global Language filter that lets you set a preferred language for your subtitles so that you get the results in that preferred language alone.
3.English Subtitles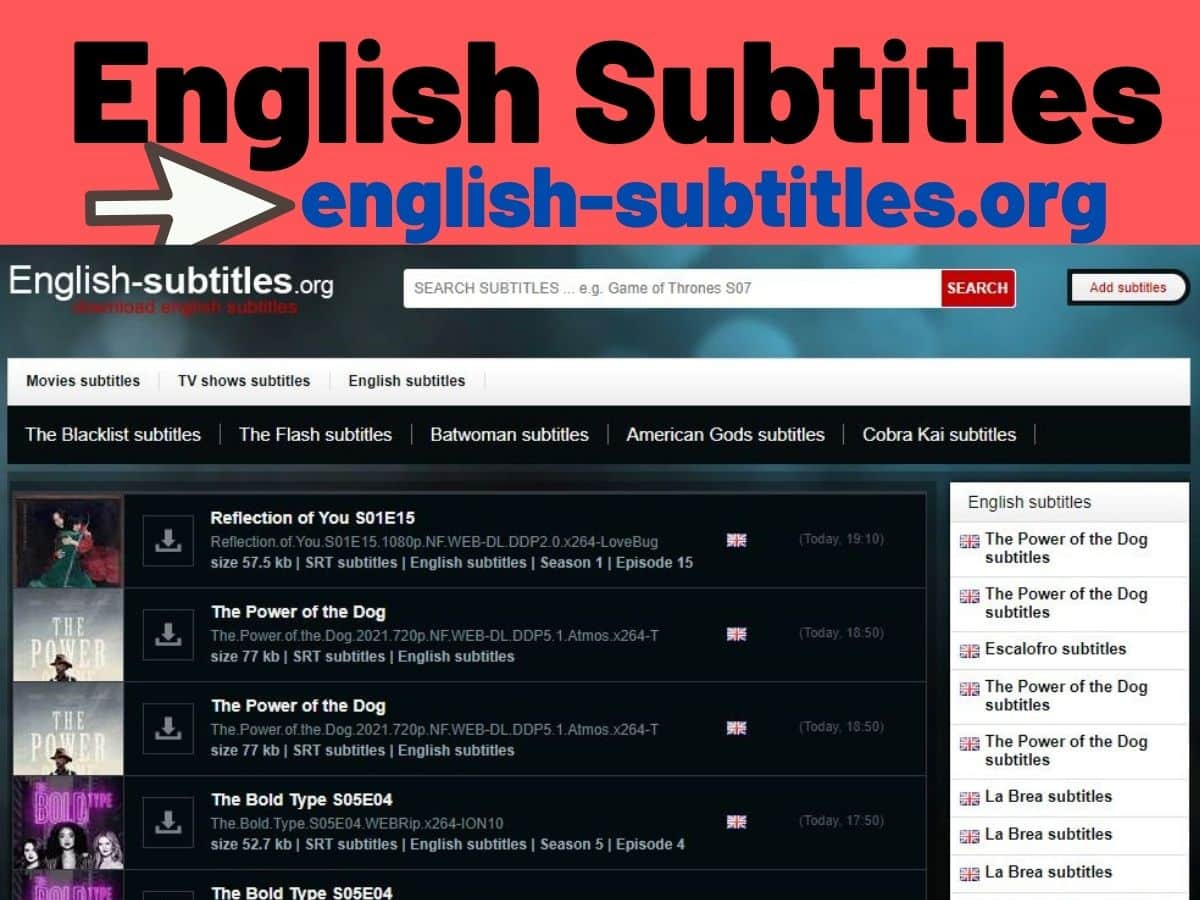 The very first thing that catches your attention when you visit English Subtitles is the splendidly sleek and modern UI design. In addition to that, it houses a huge collection of English subtitles. If you want subtitles related to International cinema and TV series, you are going to have absolutely no problem finding them here.
Upon visiting the site, you come across the newly released subtitles for TV shows and films. And then, there is its advanced search bar. You can find English with extreme ease and convenience.
However, it is a site that only caters to the English audience. If you are looking for subtitles related to different languages, you will be disappointed. To make up for it, the site ensures that you can find English subtitles for all kinds of movies, both International and American.
4.Subscene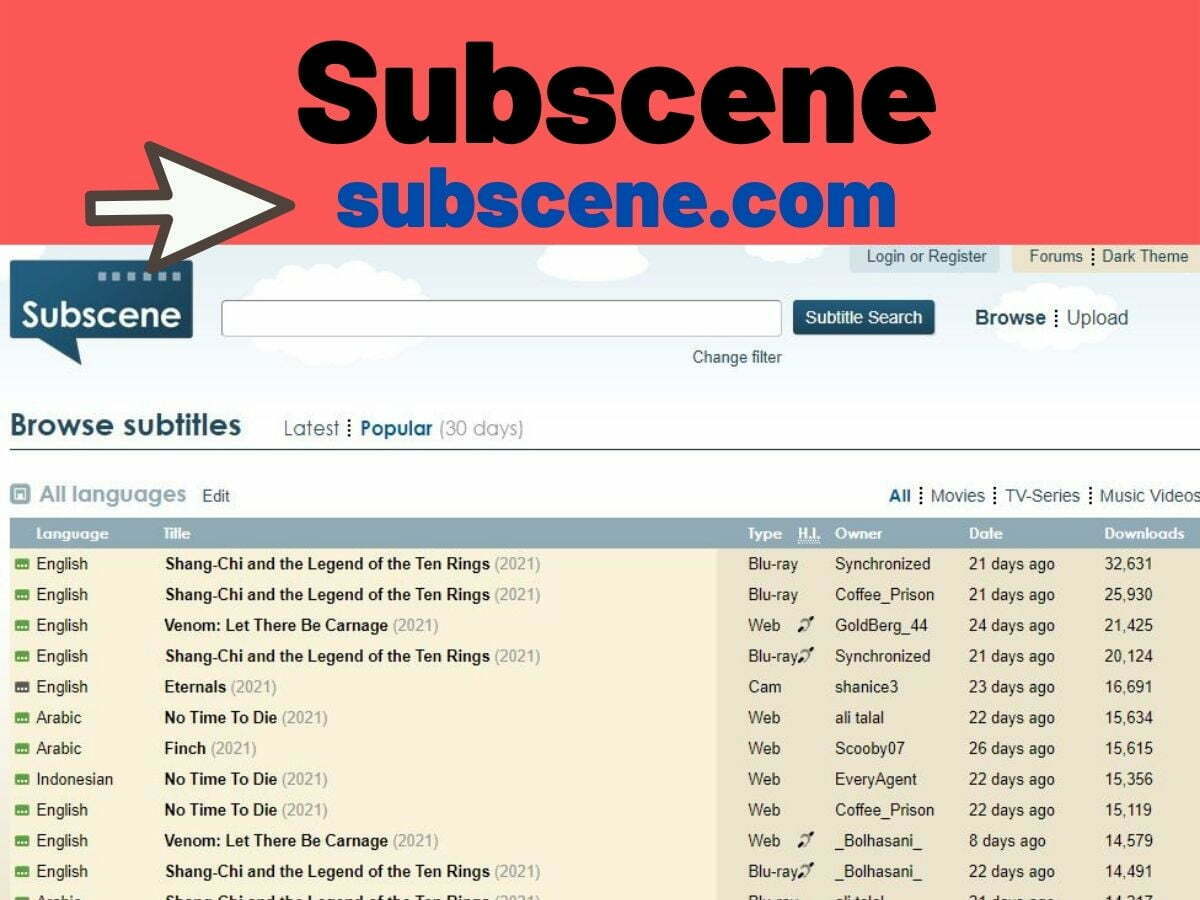 The biggest factor differentiating Subscene from other subtitle sites is that the visitor can participate in an online community that includes participants from around the world. These participants share subtitles for both old and new movies.
As a result, it makes it a lot easier for you to search and download the subtitles you require. Here, you can find subtitles in different languages, may it be movies or TV films. Additionally, you can also request for a subtitle in any language or for a movie if required.
5.YIFY Subtitles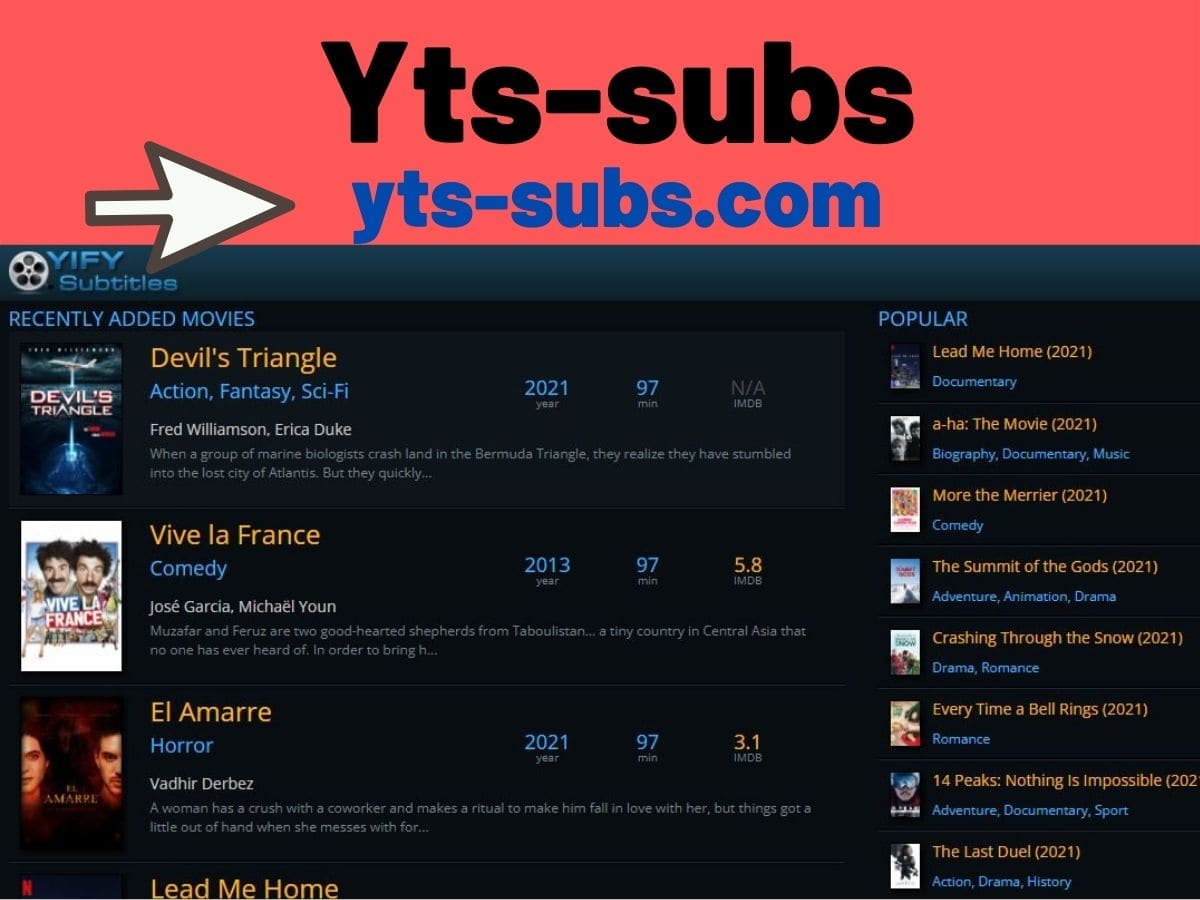 YIFY Subtitles is perhaps one of the most famous subtitle sites out there. Visiting this site, you will hardly ever come across a situation where you are not able to find a subtitle for a movie or TV series. In addition to that, its user interface is modern-looking and easy to navigate.
By using the search bar or filter, you can search subtitles based on genre, release date, and name. Furthermore, it needs to be mentioned that YIFY subtitles is one of the oldest players in the game and has made some loyal visitors and fans over the years who turn to this site for subtitles as soon as a new movie or TV show is released.
6.Addic7ed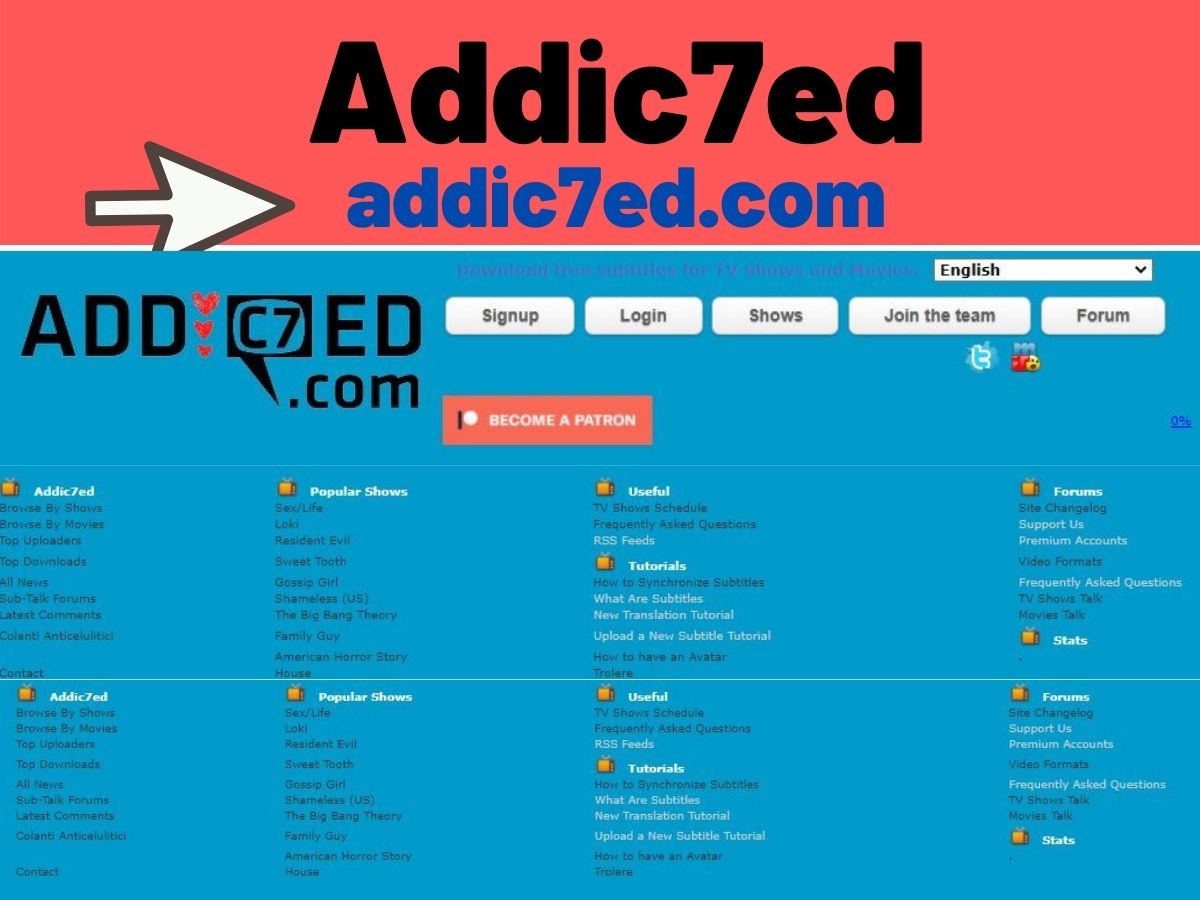 Addic7ed may not have the best user interface on the market but you are offered a huge database of subtitles for both movies and TV shows. You can easily set your preferred language on the home page and the site will show only those subtitles that are related to your preferred language.
In addition to that, Addic7ed also has a forum where you can interact with participants from across the globe and talk about movies along with the quality of subtitles. The site also features a quick search section allowing you to quickly find the latest subtitles without having to use the normal search bar.
Finally, perhaps the best feature of the site is that you can view the subtitle file before downloading it. And if you happen to be a registered member, you can also edit it.
7.Subtitle Seeker
The user interface of Subtitle Seeker may look barren but here you will come across a large gallery of subtitles for both old and new content. Its home page consisting of a sharp and easy-to-use search bar quickly finds the subtitles you have been looking for. This is especially true for the latest releases.
However, you cannot search the subtitles using filters, which makes the process slightly less convenient but the actual downloading process is quite easy and simple. Lastly, the site offers you to download the file in either SRT or Zip format.
This concludes our list of some of the best sites for downloading subtitles for free. Each site has its share of pros and cons but houses a large collection of subtitles in different languages. Therefore, if you are a movie or TV show fanatic, do visit the above-mentioned sites for quick searches and downloads.